05-09-03

It is 10 a.m., May 9, 2003, as I back my car out of the parking spot in front of my home on White River near Fishers, IN, and head out to run some errands. I move the shift lever to "Drive 1" and gently touch the accelerator to move slowly toward the street. But the car has moved no more than a few feet when something beautiful yells: "Stop! Take a look at me! I am a newcomer!"

I turn the motor off, slide out of the car and walk around to take a look at this new wildflower in my front yard.

Beautiful! But what is it? Never before have I seen this beauty. Not anywhere! Never!

An hour later, with my errands done and my favorite wildflower guide and camera in hand, I return . . . without the foggiest notion of the identity of my new ward.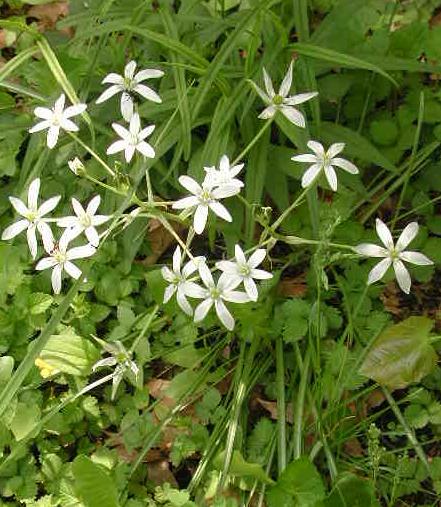 Click! Click! Click! I photograph it and leaf through the pages of my ancient copy of Peterson's Field Guide To Wildflowers. But I find nothing that appears to be even close.
I go into the house and pore over some other wildflower guides without success, until eventually, I return to reliable old Peterson to find something vaguely similar on page 64.
"Note the green stripe on the underside of the waxy petals . . . The grasslike leaves often have a whitish midrib," I read.
Still armed with my trusty Peterson, I marched back to the flower to find . . . You guessed it: the green stripe on the underside of the petals, and a whitish midrib down the center of the grasslike leaves.
A star is born . . . The Star-of-Bethlehem (Ornithogalum umbellatum).
Welcome, young fellow . . . or lady, as the case may be.

| | |
| --- | --- |
| | |
| Closeup of Star-of-Bethlehem | Under side of flower shows green streaks and grasslike leaf the whitish midrib. |