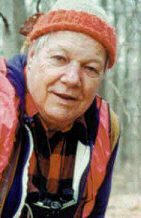 As the son of an ardent outdoorsman, Bayou Bill began his hunting and fishing lessons on the Muscatatuck River at the age of four, had his first rifle at age seven and his first bait-casting rod and reel at age eight. When ten, he began to hunt and fish alone or with some older men of the area.
Born at Crothersville, Indiana, prolific Hoosier author Bill Scifres wrote thousands of newspaper and magazine articles as well as two books, Bayou Bill's Best Stories and Indiana Outdoors. After more than 36 years as sports and outdoor writer for the Indianapolis Star, he retired in 1990 but continued to publish his outdoor-oriented Lines and Shots column there until 1999. Bill also did free-lance writing for magazines and produced the popular All Outdoors column which regularly appeared in numerous newspapers throughout the state. At the time of his death in October 2009 he had nearly completed a third book and was also cooking up a fourth (the latter a cookbook he planned to title Just Add Heat: Bayou Bill's Simple Little Cook Book).

He received many awards for his writing and conservation work, among them Hanover College's Lifetime Achievement Award, Sagamore of the Wabash from Purdue University, the Conservation Communications Award from the National Wildlife Federation, Conservationist of the Year from the Indiana Wildlife Federation, and was elected to the Freshwater Fishing Hall of Fame.

[Two years after his death, Bill was posthumously inducted into the Indiana Conservation Hall of Fame in October 2011.]

Memorial contributions in Billís honor may be made to the Indiana Wildlife Federation, 4715 W. 106th St., Zionsville, IN 46077, Phone: 1-800-347-3445 or 317-875-9453(WILD).
"Bill is truly a naturalist. His knowledge, understanding and enjoyment of the outdoors extends far beyond hunting and fishing. His enthusiasm is invigorating. He speaks to the outdoors literally and it seems to speak back to him. . . . I have never been with someone who enjoyed the outdoors as much as Bill seems to."
-- Jon Marshall, Natural Science Manager - Public Affairs, Indiana Division of Fish and Wildlife, Department of Natural Resources, Focus on Fish & Wildlife