12-22-03

Conservationists and sportsmen of Indiana generally feel that they came out pretty well in the sale of that Morgan County land last week. But there's a still-to-be-explored wrinkle.

As last week's column pointed out, when someone trifles with resources, prevention is more important than retribution. And now, it would seem, the time is ripe to use this scenario to further the conservation effort in Hoosierland.

As you know, if you are familiar with this reporter's work (this may sound like a broken record), field trailers of the state (those who run their dogs in simulated hunting competitions) have been shunted from the proverbial pillar-to-post in the last few years by the Department of Natural Resources (DNR) and its wayward child, the Division of Fish and Wildlife (DFW).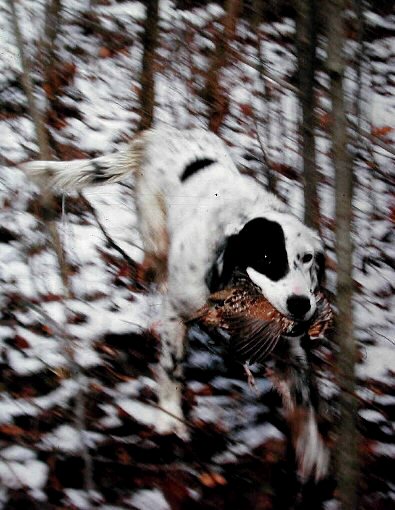 Comes now the opportunity to live up to their much-ballyhooed desires to give hunting dogs--especially those that compete in trials--their due.

John Goss, DNR director, has been trying to straighten out the mess the DFW has made of field trailing in the last few years. He told me last week that his agency is working closely with representatives of the Indiana Field Trial Association to find a niche for them (them is big goin' bird-pointing dogs, ponder) on reclaimed strip-mined land in the southwestern coal county.

That is well and good. Goss' efforts seem sincere. He seems to have accomplished more in the last month or so than all efforts combined in the past, which is something the field trailers won't say for the DFW.
From this catbird seat it would seem that the big Morgan County land deal, opens a door that could lead to a field trial facility that would outshine trial grounds of all other Midwestern states, and there are some good ones.

Since this field-trial thing erupted a decade back, I have been thinking about resolutions to the problem. I start by thinking that the hunting--even competitions--with hunting dogs is an important facet of the big hunting picture.

Because all hunting dogs weigh heavily in my thinking, I see a public or privately owned hub for hunting dog competitions on a hillside overlooking White River's West Fork somewhere south of Indianapolis. Here I see kennels for housing hunting dogs that will participate in trials of many breeds. Even facilities for horses and, of course, people.

I see lakes for water trials (retrievers), woodlands for trailing dogs (including squirrel dogs), plenty of "rabbitat" for the beaglers, and perhaps a building for non-hunting bench (show) dogs.

My dream shows the big-goin' pointing breeds doing their thing on sizeable tracts of leased farm fields in the river's flood plain when crops are out in the fall and winter (a chance for a farmer to pick up some extra revenue when river-bottom land is not growing corn or soybeans).

Somebody said that it couldn't be done,
But he, with a chuckle, replied:
That maybe it couldn't, but he would be one
Who wouldn't say so 'til he'd tried.
-- Edgar A. Guest
---
THE FISHING SCENE
Santa is going to have to hurry if he expects to bring any safe ice for hard-water angling--even in the northern tier counties, where it usually happens about Christmastime.

To get an idea or two on ice conditions in the northern tier counties, we checked with Ye Olde Tackle Box at North Webster (the natural lake country of the northeast), and Willow Slough State Fish and Wildlife area, the usual ice-fishing barometer in the northwest.

On Saturday the report from the Tackle Box indicated there was some ice on channels of some of the larger lakes, but it was far from safe. There had been no reports of hard-water fishing success there.

There is no water in the old Murphey Lake at The Slough. Because of renovation work and repairs to the dam, there will be no water there until next spring--at the earliest.

There is even less opportunity for ice fishing in central and southern parts of the state.

But it will come.
---