08-04-03

A little catalpa tree in the edge of my front-yard jungle got a new lease on life last Saturday, thanks to a gigantic ironweed plant that partially screens the tree.

That may sound a little goofy, I must admit. I will explain it as best I can.

You see, I am not real fond of catalpa trees. Still, the catalpa is a striking sight when it flowers in the early part of the summer. It is equally striking to Hoosier anglers when it is infested by catalpa worms that feed so voraciously on the leaves that trees are occasionally almost totally denuded.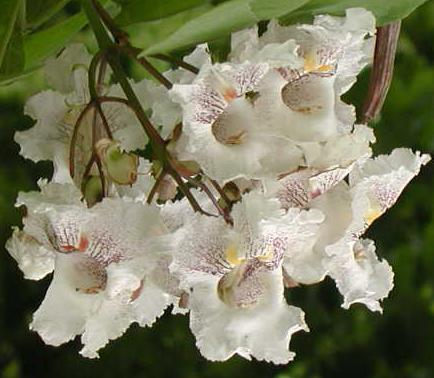 However, having convinced myself that I could enjoy the flowers of somebody else's catalpa tree, and that shade of my tree was not a factor, I bordered on wielding my chain saw on numerous occasions. Perhaps, I told myself, I would cut this interloper of my jungle when the leaves fell in the fall.
I had been keeping my eyes peeled for a month or more for ragged leaves (the mark of a catalpa-worm infested tree) on every catalpa tree I spotted, but had seen none. I was about to give up on finding catalpa worms for fish bait this summer. In the past I have found July to be the best month for catalpa worms.
So how does the tall ironweed slip into this episode?
I like ironweed. It is a beautiful wildflower and it comes at a time in late summer when many of our fall wildflowers are not yet in blossom
I was on my way back to the house after checking the mail, and as I walked along the crushed stone driveway I noticed this ironweed plant at the edge of the jungle.
I would have stopped to check it out even if it had only been waist to shoulder high (like most ironweeds). But this one was/is so tall that I had to look skyward to see the top where the flowers were not yet open.
As I enjoyed the beauty of the plant--not to mention the thought of having it in my very own jungle--my gaze settled on the leaves of the little catalpa tree in the background.
Eureka! The leaves were ratty, obviously chewed by some insect. Probably Japanese beetles, I told myself, thinking it was too late for catalpa worms.
But it wasn't too late. As my eyes swept from one part of the tree to another, I saw ratty leaves everywhere. Worms of many sizes--some up to three inches long, or longer--blessed my view.
Very strange, I thought, remembering that I usually find catalpa worms early in July. But now that I think about this natural phenomenon, I can believe that it is the catalpa sphinx way of living with the rain-clogged July.
One of the things I had learned in years of collecting and using catalpa worms for bait revolved around the fact that they are more numerous in hot, dry weather than in wet spells. Thus, it makes sense to believe our infestations of catalpa worms may be behind schedule, and will occur after all.
In any event, live bait anglers may still have a shot at this hot fish bait.
One of my favorite methods of collecting catalpa worms is to simply spread a blanket or tarp on the earth immediately below small limbs that are hosting good concentrations of worms.
By throwing a strong rope (clothesline rope works very well) over these limbs, the worms can be shaken off the leaves and will fall on the blanket/tarp. Climbing a tree to shake the worms down is risky business, but is necessary at times.
When I use catalpas for catfish or white perch (freshwater drum), I simply gob larger worms on a strong hook and fish them on the bottom. For bass, bluegills and other species that will hit artificial lures, I use smaller worms with smaller hooks and hook them once behind the head to drift them slowly around good cover. Catalpa worms are tough critters and will work on a fly rod if the angler avoids whip-snapping casts.
I store my bait in a container with tight top (a two-pound coffee can is ideal) with a good amount of fresh catalpa leaves to make the bait feel at home. The can should be stored in a cool, dry place.
Perhaps I still will rev up my old chain saw when the leaves are down in the fall. But the trimming will be done on some of the little catalpa tree's neighbors that, to this point, have stifled the growth of the "interloper."

Ode To Ironweed
Some say that you are purple
Though others say you're blue,
But I see you as beautiful . . . Whatever be your hue.

--Bill Scifes
Images:
Blanket--A blanket is a nice landing pad for catalpa worms shaken out of a tree . . . note my 2-pound coffee can bait holder.
Flower--Flower of the catalpa tree is beautiful in early summer
Lunch--Catalpa worms lunch on the little catalpa tree in my front-yard jungle.
Denude--Catalpa worms often denude trees, but the leaves come back and tree lives, often to attract a second hatch of worms in the same summer.