Oh, My . . . It's May
When the month of May creeps into my outdoor agenda, two of my favorite activities--actually three, counting lunch--are foremost in my mind.
There are, of course, many exciting and interesting activities that make May a marvelous month. But my two favorites are fishing for rock bass (Ambloplites rupestris, alias goggle-eye, goggles, or red-eye), and harvesting wild asparagus. May is crowned by parlaying the two--with some other gastronomic items--for a fantastic lunch or dinner.
We will deal with the goggle-eyes (more specifically how and where to catch them) on another page of this web site (see my weekly column 042902). Finding the wild asparagus and my directions (recipe is not a real good word here) for preparing my favorite May meal follows.
But before proceeding, let us not forget that wild strawberries ripen just in time for a Memorial Day dessert of wild strawberry shortcake (with sweet cream, of course), and that a die-hard morel hunter still may strike it rich with "big yallers" in Indiana's northern tier counties during the waning days of the month.
Nor should we forget, when pondering things to do in May, that although largemouth bass fishing slows about now as old bucketmouth goes to the nest, bluegills are going the same route--but that makes them more vulnerable. This is a country boy's rationale for pointing out that the old saw "What's good for the goose is good for the gander," is not always true. The point is that if you can't get the goggle-eye filets for this special meal, use bluegill filets. They will fill the bill nicely. And if you must hunt asparagus in the veggie bin of your neighborhood grocery store, so be it.
My special meal consists of fried goggle-eye filets, and my special dish of whole parboiled wild asparagus spears (creamed with bacon chips, onion, chopped morels, hard-boiled egg slices, and cheese). Of course, the fried goggle-eye filets and the asparagus dish must be accompanied by a nice wilted lettuce and green onion salad with a liberal sprinkling of chopped hickory nut kernels, a pan of homemade cornbread with real butter and honey, and a pot of coffee.
You can use varying amounts of all of the ingredients for my special asparagus dish. You can be the master of your own "chef-d'oeuvre." With these ingredients, short of burning it to a crisp, it would be almost impossible to fail.
Here's how: I place the slices of onion, chopped mushrooms (morels will be fine, but others--even dried or frozen will work) and one chopped slice of bacon in a sauce pan. Barely cover them with water and sprinkle liberally with salt. These items are cooked longer than the asparagus spears because they require more cooking to be tender.
When the onion is starting to show signs of tenderness, strain off stock and save it. Place asparagus spears (whole) in sauce pan, and add stock until spears are barely covered. Cover pan and parboil asparagus spears until they are starting to show tenderness when punched with a fork or sharp-pointed knife.
Drain off stock and save it with previously unused stock. Gently place spears on a platter.
Melt two or three tablespoons butter or olive oil in sauce pan Stir in flour until it becomes a loose paste. Then stir in a 50-50 mixture of stock and cream (or milk, half-and-half is great), until there is enough sauce to barely cover asparagus spears. Remove pan from heat and place asparagus in the sauce.
Spoon drained onion-mushroom-bacon mixture over the top of the asparagus spears, and cover contents with ¼ (one-fourth) inch slices of boiled eggs. Make a lattice of cheese strips (your choice) over the boiled eggs and cover pan until cheese is melting. Serve when still hot.
That, of course, brings us to finding the wild asparagus. Although May is the time to harvest wild asparagus, this activity, if done right, starts in the fall with some rough cartography.
Making rough maps in the fall--actually it is best to be point specific-will aid the harvest of wild asparagus in the spring. When wild asparagus spears pop up in the spring , grass and weeds have a head start. Thus, if you do not know the precise location of a wild asparagus patch, you may not be able to find it. A patch usually does not cover an area of more than a foot in diameter.
Most wild asparagus patches will be found in fence lines and under electrical lines because this plant is spread largely by birds who sit on the fences and electrical lines and scatter seeds in their droppings.
However, all is not lost if you have not done your fall map work. Just look for the cream colored stalks of asparagus from last year along road sides and fence rows. Find the old growth and the new growth will be there this spring.
I cut the crisp wild asparagus shoots off at ground level and keep them cool and shaded until I get them home.
I wash them under cold running water and allow them to drain.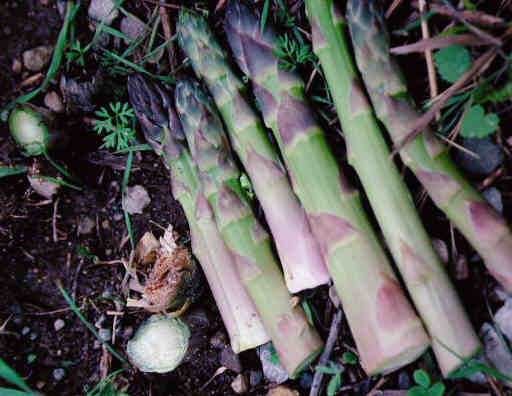 These asparagus spears are slightly smaller than a penny in diameter . . . great size for eating. Spears as small as a pencil are okay, even smaller.
That takes us to pan-frying the goggle-eye filets. It is difficult to imagine how anyone could goof up goggle-eye filets--all you really have to do is put some cooking agent (say olive oil) in an iron skillet and add heat.
However, I think my method is difficult to beat and it is not complicated.
While filets are draining, I place multi-grain or wheat crackers in a sturdy plastic bag and twist (or zip) the top with most of the air removed. With a rolling pin or some other round object, I roll the crackers as finely as possible. This is mixed 50-50 with flour on a large platter (say a dinner plate).
In a shallow bowl (a cereal bowl will be fine) I break one or two eggs and beat them into an equal part of milk.
With the bottom of my iron skillet covered with olive oil, bacon fryings, or a combination of the two, the heat is turned up to a point where a cracker crumb will sizzle in the cooking agent. Each filet is dipped in the milk/egg mixture and rolled in the flour-cracker mix before placed in a single layer on the bottom of the skillet.
The filets are dusted liberally with salt and pepper (a friend of mine says one should use enough pepper to track a rabbit), and attended constantly. Each filet is turned when the first side is golden brown, and cooked to the same color on the second side. Turn each filet only once. When all filets are turned the first time, it may be necessary to add more of the cooking agent.
Few diners will even think of tartar sauce.
The cornbread recipes on cornmeal boxes will work just fine, and the recipe for wilted leaf lettuce mixed with chopped green onions and other spring greens will be found elsewhere on this website.