Welcome to the Ide(a)s of March
March can be as fickle, weather-wise, as any month of the year, but for Hoosier outdoor folks this also makes it one of the most interesting times of the year.
The last hunting season (for fox and coyote) expired February 28 and the last trapping opportunity (for beaver) will end March 15.
Still, with the upcoming wild turkey season only a little more than a month away, March offers a chance to scout the bird you hope to bag. This can be time consuming, but it also can be fun if all you do is find a place to bag your bird and to see how wild turkeys live. You may not see a bird, but scouting can bring to light a wealth of information on the big bird.
For example, when turkey hunting--as we know it today--was in its infancy, I was scouting a large, hardwood hills area of the Hoosier National Forest known as Mogan Ridge with Phil Hawkins, my Franklin (Indiana) outdoors friend..
We found plenty of wild turkey sign--especially scratchings--but we could not be sure we were scouting a flock that sported a big Tom. Finally even this question was answered when I found a turkey dropping that was roughly two inches long and shaped like a "?." This, we had been told, was the trademark of a Tom.
I was so thrilled with my the find that I fished a little clear plastic artificial lure box from my pocket (no need for being surprised t anything you will find in an outdoor person's pockets) and placed my trophy on a little bed of cotton therein.
Later . . . much later, and with fanfare apropos to the arrival of a king . . . I would present my trophy to my wife as a quasi peace offering for having been gone from long before daylight until long after dark at a time when I probably should have been directing some spring sprucing at the lawn.
Needless to say, I have reason to recommend that you strike the turkey-dropping tactic from your bag of wife-pleasing tricks.
Then, of course, if the weather turns especially mild (a trademark of the period), there is the chance to kick off the shackles of winter (more precisely the warm clothing) and get serious about fishing for any one of a number of species (see archived columns on bass, and crappies).
So March, if you will pardon my enthusiasm, can be one of the best months of the year for Hoosier outdoor folks.
Let's just say, for example, that the weather is showing signs of spring, but it is not quite warm enough to whet your fishing appetite. But you have a young hunting dog--say one of the pointing or retrieving breeds.
Cool March days are tailor made for dog training for two important reasons.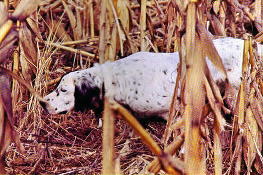 First, while the temperatures may be slightly above normal, a dog can be worked without fear of physical problems that would certainly be present later in the warm months. Secondly, plant life--weeds--has not started green-up and a dog probably can handle game birds better in late winter and early spring than at any other time of the year--far better than late summer, early fall or even into November and December.
Another good possibility for training pointing breeds and flush-dog/ retrievers will be found at private shooting preserves from one end of the state to the other.
Each year the Department of Natural Resources issues roughly 50 game breeder permits and some of these are used as pay-as-you-shoot preserves.
Some of these permits are held by hunting enthusiasts who use them for training their own dogs or cater only to their friends. But there are a number of preserves open to the public at pretty decent prices.
Most of these facilities are out of birds at this time of year, but will operate until May 1 when their season closes.
Paid shooting preserves are not well organized as a group, but potential hunters looking for this kind of action should check with their local conservation officer.
Some of these facilities also offer guide service and many have well-trained dogs to make the hunts more interesting and productive.
Pheasant, quail and chukar partridge are the mainstay birds for these facilities.
A trip to a private shooting preserve also is almost certain to provide game for the table because operators of the facilities know success and satisfaction go hand-in-hand in bringing customers back.
Although the seasons for taking all fur-bearing animals are closed now, the season for running night-hunting dogs on raccoon and opossum (not taking the animals) opened February 15 and will remain open until October 14. This offers good dog-training opportunity for treeing dogs.
At this time, a fresh black raspberry pie or cobbler can be nothing more that a gleam in the little old berry picker's eye. But locating a good berry patch is much easier now than it will be in June when these sweet and juicy little nuggets turn from red to black and beg to be picked..
Good patches of black raspberries can be located now by simply driving the back roads and using binoculars to identify the canes which are now a subdued purple. These are the old canes and they are the berry producers.
Check brush infested fence rows and the edges of thickets and woodlands, or even along stream or drainage ditch banks. Fence rows along back roads also are excellent places to find black raspberry patches.
Knowing where to go when berries are ripe is a big part of a successful berry-picking trip.
Although it can, at best, only be an incidental spring activity, bullfrogs offer some interesting fishing, not to mention some very delectable table fare.
As most outdoor folks know, the bullfrog is predominately nocturnal in habit. This largest of frog species also is most active during the dog days of summer.
However, as we often say about wild things, one of their characteristics is to act uncharacteristically.
What triggers this strange behavior I cannot say, but if weather is unseasonably warm before flying insects get their lives in gear, the bullfrog will sit in the edge of the water during the day, apparently looking for something to eat. When this phenomenon occurs frogs are not real spooky. A small surface lure close to the frog is apt to bring action. In this situation, frogs apparently are looking for small aquatic life for food. Likewise, a small artificial fly (even a small hook with any white or colorful piece of cloth) dangled in front of the frog will be hit with gusto.
The open season on frogs runs from June 15 of one year to April 30 of the following year. But with frog populations being what they are--the raccoon explosion of the 1950s has made it tough to be a frog--we would recommend that you do not try to catch bullfrogs unless you intend to eat them, at least not with hooks. The season also applies to green frogs, but this species is not often large enough to be worthwhile as food for man, unless one is quite hungry.