12-09-02

Late bow and muzzle-loader seasons still are open, so it will be a while before the last big rack story will be told. But a northwestern Indiana hunter launches things with what could be the top non-typical deer rack of the year.

Reports on the bagging of deer that sported big racks--record-book bucks--are trickling in now. They will peak when the Indiana Deer Hunters Association stages the annual Indiana Deer Exposition at the Indianapolis Boat, Sport and Travel Show, February 14 - 16, at the Indiana State Fairgrounds in Indianapolis.

During the first three days of the Sports Show official measurers of the Indiana Deer Hunters Association (IDHA) will be measuring deer racks, and this brings deer racks from everywhere, some taken in years past.

Incidentally, the IDHA is trying to get out another edition of the Hoosier Record Book Program (HRBP) next year. But this is not yet a cut-and-dried matter.

Now for that big deer. This 20-point non-typical was taken November 13 near Cedar Lake by John Quinlan, a St. John carpenter, with bow from a ground stand.

Quinlan, who moved from Illinois to Indiana three years ago, said he was sitting in his ground stand (in a brushy, wooded area) when his big buck walked slowly past.

He stood up and shot the deer at about 12 yards, he said, and waited about 20 minutes before finding his prize dead some 30 to 40 yards from the spot where he took his shot.

The rack, which is being mounted by American Natural Resources, a taxidermy business at Griffith, has been green scored at 214 7/8 (seven eights) gross, and 203 7/8 (seven eighths) net. Should the net score hold up when the rack is cured, Quinlan's deer would be tied for second place in bow non-typical classification of the HRBP with a rack taken by Joe Fulford, Wawaka, in 1987. That one was taken in Noble County.

Quinlan, who places his overall success at 25 to 30 deer in Illinois and Indiana, has two other racks registered by Pope and Young. Five days before he took his Hoosier prize he took an 18-point non-typical rack in Illinois. That one has been green-grossed at 204.
---

HOW TO FEED BIRDS--The scientific guys tell us the feeding of birds and others among nature's children is more an ego trip for the feeder than necessity for the critters.

But I find it difficult not to think that a bird with a full tummy has a better chance of making it through a sub-zero night than a bird that has had to struggle for his daily weed seed.

Thus, not only do I feed birds (throughout the year), but I try to do it in the safest way for the birds and other critters.

I feed black oil sunflower seed (grade B, if I have a choice), and whole kernel corn. Whole kernel corn is better than cracked corn for squirrels, which eat only the tiny seed center of the grain. That turns the remaining part of each grain into cracked corn for the birds.

To make it more difficult for marauding hawks to raid my feeder stations, I place the grain under bushes or shrubs, or under a canopy of under story brush.

A suet feeder also is a great way to feed birds. This will attract many species, including every woodpecker that winters here.

Suet is the fat found around the kidneys of beef. Softer forms of fat also will attract birds, but suet (the hard fat) is more crumbly and easier for birds to eat.

Wire feeders (like those you see at bird food stores) will dispense suet very well, but I prefer my homemade wire basket, which is fashioned from little chicken wire with a mesh of roughly one-inch.

A strip of little chicken wire two feet long and one foot wide can be folded and tied with a pliable copper wire along two of the three open edges. This forms a thin basket which will hold a good amount of suet and can be suspended from a tree limb with wire to thwart raids of raccoons and other animals. When this basket is filled with suet it will be only two or three inches thick, and its thickness will decrease as the suet is used by birds. I have never seen a bird get inside the basket or be trapped in any way.

Some grocery store meat counters offer suet, but a better source is independent butcher shops.
---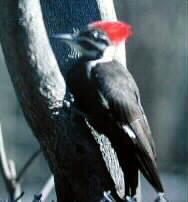 A pileated woodpecker awaits his turn at the suet feeder from a perch on the redbud tree outside my back door.