05-06-02

With the spring morel season winding down--in many parts of the state it never got wound up--many Hoosier fans of wild food are calling it quits for the spring. It is such a pity.

Sure, the morels march relentlessly over the hill into Michigan, and pokeweed shoots get too tough for cooking. But there is a smorgasbord of fine, healthy food out there, for both the tummy and the soul. And it is free for the taking.

Take, for example, an interestingly sentimental afternoon I enjoyed last Saturday when I returned to my old hometown--Crothersville (in Jackson County). I was back in God's Country to attend the alumni banquet for good ol' C-ville H.S. But that didn't happen until 5:30 p.m., and it was no accident that I was there shortly after noon.

I must admit to unsuccessfully popping a few casts with my favorite artificial lure into one of my favorite holes for bass, but the big item on my agenda was to re-establish a childhood friendship with Lou Nehrt's big bottom woods west of Crothersville. I hadn't been there since before the war--no, not the Spanish-American. Moreover, I did not know who owned the woods, nor whether I would be welcome.

However, Beth and Armondo Torres, who live on the crest of the hill which drops sharply into the big (40-acre) bottom woods, assured me that I was welcome to renew my friendship with the woods in which I spent more of my waking hours as a kid than any other place, excluding home and school.

For a lack of time--or perhaps a combination of latent energy and a trove of interesting natural phenomena--I never made it to the big bottom woods. I was too busy discovering--make that re-discovering--the natural phenomena that abounds in the hill woods.

Before I got as far as the trees, I encountered a beautiful stand of sage brush (the tallest, three to four feet high, that I have seen in many years). Then the wild onions, dewberry vines, and a wildflower I had never seen before kept screaming: "LOOK AT ME! . . . LOOK AT ME!"

It is difficult to ignore wild onions--especially when they are so plentiful and smell/taste so good. It also is difficult to ignore the beautiful white flower of dewberry vines as they snake their way through short weeds to promise a pail of beautifully-round, sweet-as-sugar berries a month or five weeks from now.

Still, the curtain would not rise for the finale of this natural extravaganza until I struggled to cross the ancient woven-wire fence at the edge of the hill woods to find the gently-sloping passage over the steep hill to the bottom land. Then I would cross the little creek that always seemed to separate the stovepipe timber of the hill woods from the mature trees of the bottom woods.

As the plans of men often go awry, so it was with my plan for visiting the bottom woods. I was greeted by the sight of beautiful clumps of Christmas ferns before I could negotiate the rusty, old fence. And before I could acclimate to the changes from open fields and bright sunshine to deep woods and dense shade, I was immersed by the obvious fact that in 50 some years the stovepipe hill timber had matured and now was reaching for the sky with sturdy trunks.

Massive oak (both white and black), poplar, sweet gum, hickory and beech trees stopped me in my tracks many times as I mince-stepped around brush and decaying limbs of the forest floor. But just as a lover of nature can be awed by the great, so can he be intrigued by the small.

I fancied that those larger trees had been saplings and some of those smaller trees were seedlings when I had last been there. And now there were plenty of seedlings of many tree species, including the American beech which happens to be my favorite tree.

I was awe-struck, too, by the sheer drop (100 feet or more) from the brink of the hill to the damp bottomland below, a silent reminder of the ice age.

Little wonder that I neither found--nor searched diligently for--the gentle, sloping passage from the hill to the bottom land. I had found all I needed on Nehrt's Hill.

When my watch told me it was time to head for the banquet, there still was a walk of half a mile or more back to my car. It would lead through the fallow field delightfully filled with wild onions. I would harvest a few for a skillet of leftover roast-venison hash that had been on my mind for a few days.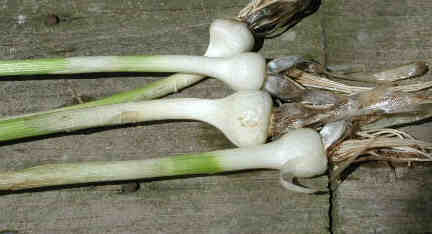 Wild Onions
So my reunion with Lou Nehrt's bottom woods had not materialized, but there would be ample time for that in the future . . . like, maybe, when those dewberries ripen in June, or certainly no later than the opening of the squirrel season at mid-August.